I am a self-proclaimed, self-taught chef. Six years ago there were about three things I could do in the kitchen: pour myself cereal, cook instant mac and cheese, and make a salad. It really wasn't until I started dating my boyfriend back in college that I decided I needed to add some dishes to my repertoire. It all started one summer, the summer I fell in love, that I started whipping up pesto pasta with spicy sausages. Literally I made this about 10 times in just a couple weeks, eagerly trying to perfect this relatively simple dish. When Ed and I look back at that summer we refer to it as the summer of pesto pasta. I overdid it, but I wanted to teach myself to cook and to cook well.
For the novice, or possibly even the more experienced chef, I'd like to share some tips I picked up along the last six years that have advanced my cooking and overall attitude towards being in the kitchen. Just remember, cooking takes time and lots of patience, so don't be afraid to make mistakes. I've certainly messed up my fair share of dishes, but those mistakes were valuable in helping me improve.
1- Know when to salt. Depending on what you're preparing there is a proper time to salt. For pasta, rice, and meat, salt before cooking to boost flavor. Aka, for the pasta and rice, toss in salt before bringing the water to a boil. Mushrooms and beans should take salt at the end of the cooking process. For onions, it is a matter of preference. If you enjoy your onions browned and caramelized, add salt at the end of cooking. Conversely, if you like your onions soft and translucent, add salt earlier on (Source: Organic Authority).
2- Use the healthiest pans out there. I grew up using teflon pans because they were so easy to clean, however, I've since learned that teflon is some of the worst cookware out there. It releases toxic chemicals into the food and air when you cook, especially if you scratch it, so why not avoid that and use better pots and pans?  Avoid teflon, aluminum and copper, and use cast iron, stainless steel, or enamel. I am a huge advocate of cast iron. Not only does it add iron to your diet when you cook with it and heat food faster, but I also personally think it makes food taste exceptionally good. Especially fried eggs (I love eggs!). The best fried eggs can be made in cast iron by frying it with a little oil, then steaming it by adding a tiny bit of water and covering it with a lid for a couple minutes. You're welcome.
3- Use a variety of cooking methods. Steam, sauté, sear, boil, roast, bake, raw… there are so many ways to enjoy your food. Switch up the way you prepare your meals, because cooking tends to reduce the vitamin content of the food, since some vitamins are sensitive to heat, water and air.Try eating your vegetables raw, especially in the hot, summer months.
4- Use your microwave minimally. Of course using a microwave is convenient, but using a microwave isn't the healthiest. Not only does the radiation from microwaving change the molecules in our food and substantially reduce the nutrients, it can also release toxins if using plastic to reheat your food. It's actually been found that cooking vegetables in a microwave reduces the number of nutrients by 97% (source: Natural News). I know, I can be lazy too, but try reheating your meals at a low temperature in the oven or on the stove top, or at least use glass containers or microwave-safe dishes if you need to microwave.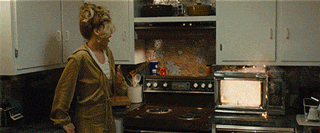 5- Prep all your food when you get home from grocery shopping. This sounds like a pain, but it actually will save you time and effort during the week. I like to salt and pepper my meat before I put it away in the fridge or freezer, wash and chop all my fruits and veggies, and maybe make a pot of whole grains to last me a few days. This way I can reach in the fridge and grab pre-made or pre-prepped items without having to always pull out the cutting board. This also saves on clean up time!
Have additional tips for the novice chef?  I'd love to hear them! Want more tips and health info? Subscribe to my newsletters!